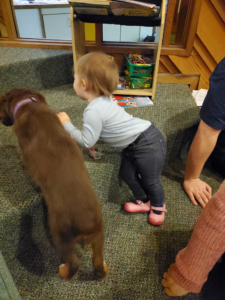 Welcome! We are easy to find – just two blocks off of the Douglas Bridge, at Glacier and 10th Avenue in downtown Juneau (near the Alaska Permanent Fund office building).  Our worship is at 9:30 a.m. every Sunday with a variety of worship experiences each month.  We celebrate all pieople in our worship!
Worshiping During the COVID-19 Pandemic
Under CBJ Ordinances and CDC Guidelines, we hold services in the church maintaining six-foot social distancing in the sanctuary and require wearing of masks by all (regardless of vaccination status). Visit our COVID-19 Mitigation page for more information.
Open through Sunday, December 5th from 10:30 pm to 6:30 am (must arrive by 2 am).

Click here for more information.   Click here for RLC Warming Shelter Operating Status.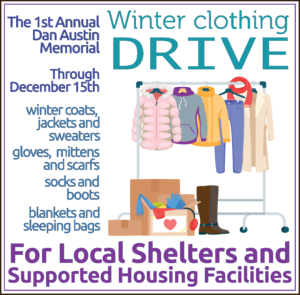 The 1st Annual Dan Austin Memorial Winter Clothing Drive Kicks Off to Help Those in Need
Winter Clothing Drive Coordinator Alexis Ross Miller, a long-time Juneau resident, read an editorial written by Laura Rorem, a JAMHI Board Member, on Friday, October 22, in the Juneau Empire.  The article was titled "Seeking justice for people experiencing homelessness" and Miller was inspired by her daughter Tanya, who passed away in 2018 at age 45 due to mental and physical health issues and decades of homelessness.  Rorem in the final paragraph of her piece wrote, "Working for justice with and for homeless people is doing God's will. May we overcome our discomfort and answer his call to action?"  Miller said she was very moved by the words of a mother sharing honestly about her daughter's struggles and felt called to action.  She added, "there are two quotes I think of often because my parents instilled in me that caring and giving to others was part of The Golden Rule: No act of kindness no matter how small is wasted (Aesop) and Every charitable act is a stepping stone toward heaven (Henry Ward Beecher)."
Click here for more information.
Download 1st Sunday of Advent 2021 Bulletin,Download 1st Sunday of Advent 2021 PowerPoint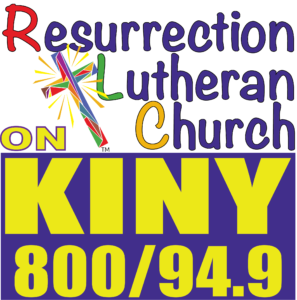 Listen to an abridged version of our prior week's worship on Juneau Radio Center KINY Sunday mornings at 9:30.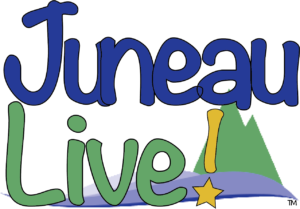 Click here for the Juneau Live! Program Guide.
Click here the go directly to our YouTube channel to see all our past shows.
Juneau's largest food pantry serving 150 to 200 individuals and families each week is open Mondays noon to 4:30.