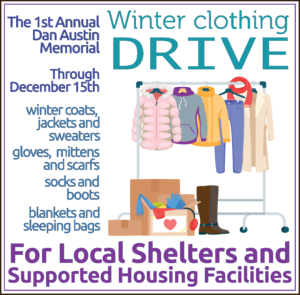 The 1st Annual Dan Austin Memorial Winter Clothing Drive Kicks Off to Help Those in Need
Winter Clothing Drive Coordinator Alexis Ross Miller, a long-time Juneau resident, read an editorial written by Laura Rorem, a JAMHI Board Member, on Friday, October 22, in the Juneau Empire.  The article was titled "Seeking justice for people experiencing homelessness" and Miller was inspired by her daughter Tanya, who passed away in 2018 at age 45 due to mental and physical health issues and decades of homelessness.  Rorem in the final paragraph of her piece wrote, "Working for justice with and for homeless people is doing God's will. May we overcome our discomfort and answer his call to action?"
Miller said she was very moved by the words of a mother sharing honestly about her daughter's struggles and felt called to action.  She added, "there are two quotes I think of often because my parents instilled in me that caring and giving to others was part of The Golden Rule: No act of kindness no matter how small is wasted (Aesop) and Every charitable act is a stepping stone toward heaven (Henry Ward Beecher)."
Miller contacted Brad Perkins, RLC Warming Shelter Manger and Producer of Juneau Live! at Resurrection Lutheran Church (RLC), to be part of the Winter Clothing Drive.  Perkins and his wife, Pastor Karen Perkins of RLC, moved to Juneau four years ago from San Francisco and both have more than 25 years each working to aid homeless populations.  The RLC Food Pantry, the largest in SE Alaska, serves 150 to 200 families and individuals each week, also provides unsold clothing and other items from the St. Vincent de Paul Thrift Store.  The mission of their church is service to others, especially people in the community who are struggling with food, and now housing, insecurity.
General Manager Dave Ringle of St. Vincent de Paul (SVdP) said that his mission is similar to that of RLC, and that "the pandemic has increased the struggles of the neediest in our community. As difficult as it is for most people, those who are living on the edge in the best of times have fallen on even harder times.  As winter seems to be coming earlier every year, coats, socks, and warm weather gear is needed by those who have nothing. I am constantly amazed at this community's capacity to give.  And I very much appreciate the generosity of so many people here in Juneau." Ringle has been the GM at SVdP for the past two years and is a former school teacher.
Deputy Director Luke Vroman has been at The Glory Hall (TGH) for the past three years.  He is thrilled that THG opened at its new location on Teal Street next to SVdP and they have separate rooms with locks and keys for 43 residents.  But right now there are 64 people residing at TGH and 22 are on bunk beds.
"The need is very apparent here at TGH when our Board members or visitors walk in the front door.  To come in person and see those who are here, each person has their own unique story as to how they ended up homeless and the pandemic has only increased those numbers," he said. "Generosity of spirit, kindness, compassion are hallmarks of the holiday season.  Please contact TGH, SVdP and the RLC Warming Shelter to donate winter clothing items over the next three weeks," Luke added.  "We will all be very grateful for anything donated and we already have a big barrel inside our front entrance at TGH."
The Glory Hall is located at 9715 Teal Street behind the Nugget Mall.  Luke Vroman can be reached at (907) 586-4159 or (907) 500-8121.  SVdP's Administrative Offices in the Smith Hall Senior Housing Facility located at 8617 Teal Street.  GM Dave Ringle can be reached at (907) 789-5535 or (907) 321-7026.  The RLC Warming Shelter at RLC is at 704 W 10th on the corner of Glacier Ave. and parking is available. RLC Warming Shelter Manger and Producer of Juneau Live! Brad Perkins can be reached at (808) 782-5795, and manager@warmingshelter.org.
Winter Clothing Drive Coordinator Alexis Ross Miller can be reached at (907) 793-0701, and at alexis_miller@hotmail.com.
Download the Press Release for Dan Austin Winter Clothing Drive v 4 (11-21-21)
Download Dan Austin Winter Clothing Drive ltr v 3 (11-21-21)