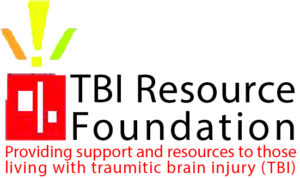 TBI Resource Foundation is a non-profit corporation currently seeking its tax-exempt status under section 501(c)(3) of the Internal Revenue Code. Once TBI Resource Foundation has secured its tax-exempt status, TBI Resource Foundation will provide support and services to living with traumatic brain injury ("TBI"). The foundation has need for supporters to assist in its efforts to provide support and services.
Click here to see how you can support the TBI Resource Foundation.
Download the Foundation Backgrounder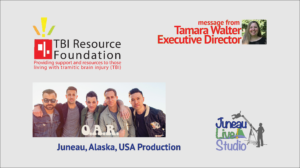 Living with TBI (with help from O.A.R.) – A Message from TBI Resource Foundation Executive Director, Tamara Walter
Join Tamara Walter, Executive Director of the TBI Resource Foundation, as she strives to live with her traumatic brain injury (TBI) to her source of inspiration from O.A.R.'s I Feel Home.
How Do You Think?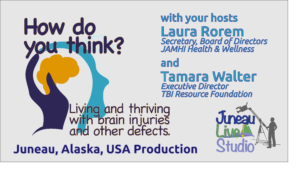 How Do You Think? with your hosts Laura Rorem and Tamara Walter
How Do You Think? gives Juneau residents direct to access to information and resources regarding brain injuries / defects including traumatic brain injury (TBI), fetal alcohol syndrome (FAS), autism from those living these issues, those who support such individuals including family members, medical and behavioral health providers and assistance programs.  The show provides health care providers and assistance agencies and other support organizations direct access to Juneau residents in need of information and support assistance.  Hosted by a parent of FAS children / JAMHI board member and a TBI survivor / special education teacher, in each 30 to 45-minute episode the hosts would be joined on a typical talk show set by guests from a provider or an assistance agency who would explain how to access their service.    Additionally, each episode will have a webpage on juneaulive.org with links.