Juneau Live! Studio Showrunner Camp

Monday, June 26 through Friday, June 30, 2023
The Showrunner Camp is a one-week immersion program in television production for middle and high school students. Participants ("crew") learn the skills needed to broadcast a live two-hour music concert, recorded in front of a studio audience. During the five day camp, the crew receive instruction from industry professionals and practice those skills is a working studio (making a live, public broadcast each day). crew members become their own production company which, by week's end, self-sufficiently produces (with on-screen credit) an episode of Juneau Live! Studio's most popular series (10,000+ views), Alaska Music One Presents with at least four major, local bands, in front of a studio audience.  Contact producer@juneaulive.org or 808-782-5795.
BTW, it's not really a camp to learn how to be a "showrunner."  "The Showrunner is the person who has overall creative authority and management responsibility for a television program. "the vision of the show as a whole does not come from the freelance or even the staff writer, but from the showrunner," from Wikipedia.  UCLA Extension offers a Showrunners Boot Camp Course, which specifically teaches how to be a showrunner.  However, showrunning will be discussed and "showrunners" are a hot topic / buzzword in the biz these days.  Thus, "Showrunner Camp" made for a catchy program name (and the URL was available!).
For more information:
Dates – Will this get my parents off my back for a week about what I am doing this summer?
Register for Showrunner Camp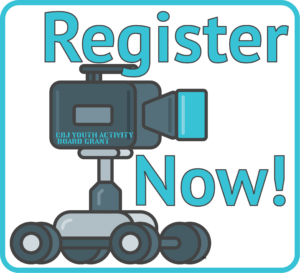 Program, Curriculum and Schedule – What do I get to do, learn and are we really doing a two-hour show with real bands?
Sponsors, Organizer and Facility – Who is paying for this camp?  Wait, this is at a church!  Is this a bible camp in disguise?  Why do they have a TV studio?
Downloads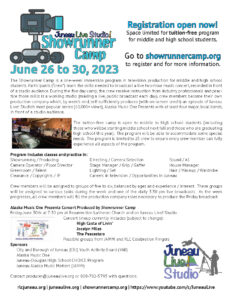 Download Showrunner Camp June 2023 Flyer
Download Showrunner Camp Brochure