Currently Operating Upstairs at RLC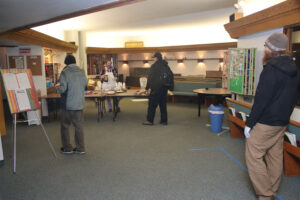 We are located upstairs Resurrection Lutheran Church  at 740 W 10th Street, Juneau, Alaska 99801.
COVID-19 Pandemic
The RLC Food Pantry is still allowing patrons to make food selections (rather than providing pre-bagged food).  However, we require all patrons to wear a face mask (which we can provide), or we can bring food outside to you.
See the Food Banks Adapt to Coronavirus article  in the Juneau Empire quoting our own Pastor Karen Perkins.
Donations are Always Welcome
While we purchase the bulk of the food we distribute from the Southeast Alaska Food Bank, we accept donations of packaged food – protein (meats, beans, etc.) is especially welcome.  Easiest to donate on Mondays from 10 to  4.  However, call the church at (907) 586-2380 to arrange other times.  We also accept donations of your time.  Contact the church at rlcoffice@ak.net. And, of course, monetary donations are also appreciated:
.
RLC Food Pantry Guest Service Guidelines