Juneau's Largest Food Pantry Serving 150 to 200 Individuals and Families Each Week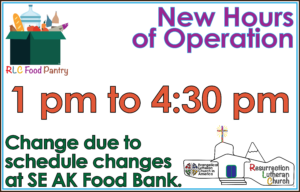 New hours of operation due to schedule changes at the Southeast Alaska Food Bank.
Open Mondays 1 pm to 4:30.  We are open all holidays.
Currently Operating Upstairs at RLC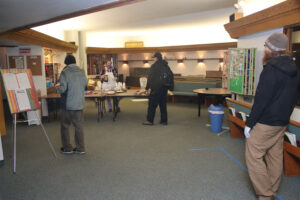 We are located upstairs Resurrection Lutheran Church  at 740 W 10th Street, Juneau, Alaska 99801.
COVID-19 Pandemic
The RLC Food Pantry is still allowing patrons to make food selections (rather than providing pre-bagged food).  However, we require all patrons to wear a face mask (which we can provide), or we can bring food outside to you.
See the Food Banks Adapt to Coronavirus article  in the Juneau Empire quoting our own Pastor Karen Perkins.
Donations are Always Welcome
While we purchase the bulk of the food we distribute from the Southeast Alaska Food Bank, we accept donations of packaged food – protein (meats, beans, etc.) is especially welcome.  Easiest to donate on Mondays from 10 to  4.  However, call the church at (907) 586-2380 to arrange other times.  We also accept donations of your time.  Contact the church at rlcoffice@ak.net. And, of course, monetary donations are also appreciated:
Land Acknowledgment
RLC Food Pantry would like to acknowledge that we are on historical land of the A'akw Kwáan and T'aaḵu Kwáan, the Indigenous people of this land.  For more than 10,000 years, Alaska Native people have been and continue to be integral to the well-being of our community.  We are grateful to be part of this community, and to honor the culture, tradition and perseverance of the Tlingit people.  Please forgive our missteps as we attempt to right some of the wrongs of the past.  Gunalchéesh."
Mission Statement
RLC Food Pantry is part of Resurrection Lutheran Church's (RLC) community service programs addressing immediate needs of refreshing and nourishing the body, mind and soul.  Along with Juneau Live! Studio (nourishes the mind), RLC Warming Shelter (refreshing the body), and RLC worship services (nourishing the soul), RLC Food Panty nourishes the body by operating the largest food pantry in Juneau feeding 150 to 200 individuals and families each week, allowing patrons to select their own foods in an unique 100' COVID-safe mobile food line (paid for with a Rasmuson grant in 2021)  The church believes these community service programs embody its mission to promote spiritual growth in Christ and service to all people.
Guest Service Statement
Guests in our food pantry are:
our patrons
our patrons' families and caregivers
our donors and volunteers
.
How we treat our Guests:
Have common courtesy. Seriously.
Be courteous and respectful to Guests of all stature and ages.
Go above and beyond to exceed Guest's expectations.
Provide immediate service recovery. Guest satisfaction is a top priority.
Make it worth our Guest's time to be here.
Seek out Guest contact. Be happy – make eye contact and smile!
Greet and welcome every Guest.  Spread the spirit of hospitality.  It's contagious!
Project a positive image and energy.  Exhibit appropriate body language.
Thank every Guest.
Lift up Guests in prayer or contemplation.
Develop and nurture our public image and community relationships.