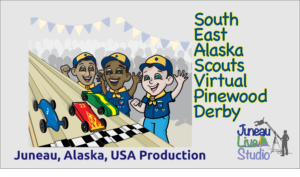 Join Cub Scout Packs from across SE Alaska competing in their Pinewood Derby's. In addition to viewing the competitions on Juneau Live!, the competitors can attend during their races on Zoom. You can also click here to view the YouTube live stream in another window, or copy and paste this link in your browser: https://youtu.be/fT2-5owlYY0
The Pinewood Derby is one of the highlights of the Cub Scout year.  Scouts get a kit consisting of a block of wood and four wheels and with the help of adult the build a car.  Scouts then race their cars against other Scouts.  Emphasis is not so much on winning but on working together with an adult on a project from start to finish.  Last year, Leonard Robertson and Keith Pahlke were talking about trying to hold some kind of little race for just his den of six kids or so when they came up with the idea of trying to hold a virtual race where the scouts would not be at the actual race but observe it online.  Keith Pahlke is also Scoutmaster for Scout Troop 11 which meets at Resurrection Lutheran Church (RLC).  Once they decided to go big on the event they opened it up to all Cub Scouts in Southeast Alaska.  All the Cub Packs in Juneau participated along with Packs in Ketchikan and Craig.  The event was open to anyone interested whether they were registered Cub Scout or not.  Last year's broadcast was Juneu Live! Studio's inaugural event and had over 500 views!
When your car is competing in a race, click here to join the Zoom meeting from your computer, tablet or smartphone. (New to Zoom?  Click here to download the Zoom Client to your device before the meeting.)
You can also enter the meeting ID: 940 753 5657 (no password necessary) into Zoom directly.
For an audio connection (continue watching in YouTube,muted) dial on your phone: +1 253-215-8782 meeting ID: 940 753 5657 password: 054751.
Questions about Scouting in Alaska can be answered the scouts website and Facebook page.  You can support Scouting in Alaska via Pick Click Give to Great Alaska Council BSA.Cub Scouts is open to all boys and girls age 5-10. Scouting BSA is open to all kids age 11-17.  Like every organization we have struggled over the last year to keep our program active and our Scouts and families safe.  Leonard Robertson and Keith Pahlke work with Pack 10 which usually meets at either Harborview or Gastineau School or at the Douglas United Methodist Church. All of those buildings have been closed to the public since March so we have had few if any meetings since then.  Scout Troops have continued to meet and camp and keep active, but the younger Cub Scouts have had a harder time keeping active.  The start of the school year is normally when we do our biggest effort to recruit new Cub Scouts and that did not happen this year either.