Weekly Programs
Fridays 7:00 PM
Alaska Music One Presents from the Juneau Live! Studio
The Alaska Music One Presents Concert Series live-streams on Friday nights starting May 7 at 7:00 pm in front of a live studio audience. Sponsored by Juneau's premier local music store, Alaska Music One, (and featuring its owner, Keith Giles, as the concert series' sound engineer).  The Series will be MCed by Juneau's own Riley Woodford (who is also the talent promoter for the series).  If you would like to be part of the studio audience, go to our studio audience registration page.
Be a Member of Our Saturday Studio Audience
If you (and members of your family) would like to be invited to be part of our Saturday studio audience, click here to register.
Saturdays 4:00PM
Yoga and Meditation with Grace Elliott
(coming soon)
Saturdays 4:30PM
At the Clubhouse from Polaris House with Bruce Van Dusen
Polaris House Executive Director, Bruce Van Dusen, brings you news and interviews with members and guests.  Learn what is going on at the Clubhouse this week.
Saturdays 5:00PM
Join Juneau Real Realtor, Ericka Lee for a look at home purchase and sale in Juneau.  Each week Ericka interviews a guest with experience in an aspect of the home buying and sellinf experience.  Additionally, she will highlight a local property on the market.
Saturdays 5:30PM
Now You Know,  Juneau with Jocelyn Miles
A new game show featuring Juneau facts and trivia (coming soon) hosted by the multi-talented Jocelyn Miles.
You can per-register to be a contestant here.
Sundays 9:30AM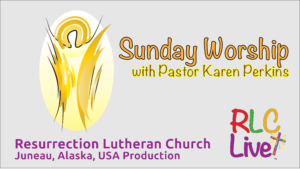 Sunday Worship with Pastor Karen Perkins
Join Pastor Karen Perkins an Evangelical Lutheran Church of America (ELCA) service of Word and Sacrament.  In addition to viewing the service on Juneau Live!, you can attend the service in-person or on Zoom.
Sundays 3:15PM
Sandy and Friends Jam for Wildflower Court (and you)
A group of talented musicians started playing for the residents of Juneau's long-term care facility, Wildflower Court.  However, the pandemic has prevented them from visiting the facility for the last year.  The group now holds a jam session in the Juneau Live! Studio on Sunday afternoons that is watch by the residents of Wildflower court, and now you!
Sundays 6:00PM
Join Pastor Credo and Brian Graceland for a native Christian service of Word and music.  In addition to viewing the service on Juneau Live!, you can attend the service in-person.
Special Event Programs
Theater Alaska will be live streaming Alaska Theater Festival 2021 Events from the Juneau Live Studio: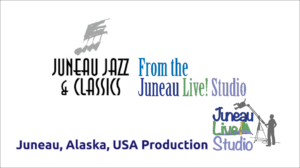 Juneau Jazz & Classics  will record one of its Juneau Jazz & Classics Spring Festival events from the Juneau Live Studio for broadcast this summer.
Puttin' on the Ritz
Wednesday, May 25 7:30
Visit the Juneau Jazz & Classics from the Juneau Live! Studio webpage for more information.