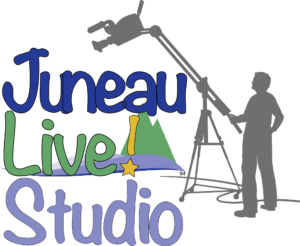 Producer, Bradley Perkins
Brad has worked in broadcast television since college in the 1970s.  In addition to an extensive theatrical arts background, he was the booking agent for all on-campus entertainment. He has worked in local and regional television markets. He was hired by the Episcopal Diocese of Hawai'i to produce the island-wide live broadcast of the ordination of the new bishop to Hawai'i.  Brad is the founder and general manager of Perkins Productions which produced promotional and training videos for high-tech companies in Silicon Valley in the 1990s and 2000s.  It also produced live productions throughout the 2000s and 2010s.  Perkins Productions has provided video production services, including pre-production (storyboard, scripts), production (event, on-location, studio) and post-production (editing, sound mixing, scoring, media distribution).  Additionally, Brad can be found online at IMDB, LinkedIn, Facebook, Twitter, Instagram, Pinterest, YouTube.
At Juneau Live!, Brad designed, developed, constructed and maintains the studio.  In addition to being the Juneau Live!'s producer, Brad also fills-in as director and sound engineer.
Download more more than you wanted to know about Brad…
Outreach Coordinator, Rev. Karen Perkins
Prior to being called at Resurrection Lutheran Church, was Pastor at both a Lutheran and Episcopalian Church on the marginalized Waianae Coast of Oahu, Hawai'i.  Karen has worked with those in need since the 1990's as part of the trailblazing San Francisco Night Ministry, first as their trainer, and eventually, as one of the Night Ministers on the street from 10 pm to 4 am, serving those suffering from homelessness, mental health issues, substance abuse, physical and mental abuse, health issues, lack of education or income stability and those contemplating suicide.  Prior to seminary, was distance learning/hybrid trainer, and Learning and Development management for AAA., and continues to train RLC SSS and Food Pantry staff on their guest service guidelines and practices, and working with homeless clients.
At Juneau Live!, Pastor Karen fills-in as makeup, hair and wardrobe. Karen has a degree in degree is in dramatic art—dance (and linguistics) from University of California Berkeley.  She taught dance with Brisbane Dance Workshop was part of internationally-traveling theater review company, and a dancer with the company Bay Area Repertory Dances .
Download more more than you wanted to know about Pastor Karen..
Director in Residence, Paul McDermott
Paul is one of the directors at Juneau Live!.  He has many years of video production experience, and has helped many churches, and other organizations, in Juneau design and install their video production systems.  At Juneau Live!, Paul was the director for a number of the 2021 Alaska Folk Festival video submissions.
Paul has been playing drums for 50 years and teaching others for 40 of those years.  He has played in many bands, including jazz, rock, country and worship and is still active in music, playing shows and working with bands.  He has had students from ages 5-60, some whom have taken a few lessons and others who have studied with him for four or five years and continue to play in a variety of venues.  In keeping with his fundamental philosophy that people do not learn to read before they begin talking, his goal is to get his students up and playing a basic drum beat in the first couple of lessons, then build on that and have them reading music in no time—while having fun doing it.
Click here to learn more about McDermott  Media.