Open through Sunday, December 5th from 10:30 pm to 6:30 am (must arrive by 2 am).
Click here for RLC Warming Shelter Operating Status.
Email concerns, suggestions for impact mitigation and questions to Brad Perkins, RLC Warming Shelter Manager: manager@warmingshelter.org.
You can also call Brad directly at 808 782 5795.
Click here for more information and how to apply.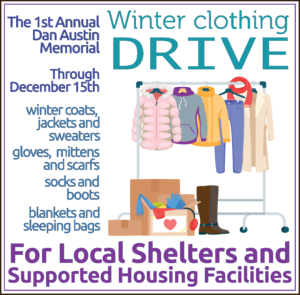 The 1st Annual Dan Austin Memorial Winter Clothing Drive Kicks Off to Help Those in Need
Winter Clothing Drive Coordinator Alexis Ross Miller, a long-time Juneau resident, read an editorial written by Laura Rorem, a JAMHI Board Member, on Friday, October 22, in the Juneau Empire.  The article was titled "Seeking justice for people experiencing homelessness" and Miller was inspired by her daughter Tanya, who passed away in 2018 at age 45 due to mental and physical health issues and decades of homelessness.  Rorem in the final paragraph of her piece wrote, "Working for justice with and for homeless people is doing God's will. May we overcome our discomfort and answer his call to action?"  Miller said she was very moved by the words of a mother sharing honestly about her daughter's struggles and felt called to action.  She added, "there are two quotes I think of often because my parents instilled in me that caring and giving to others was part of The Golden Rule: No act of kindness no matter how small is wasted (Aesop) and Every charitable act is a stepping stone toward heaven (Henry Ward Beecher)."
Click here for more information.
RLC Warming Shelter  Reporting
Read CBJ's Press Release – Planning for cold weather emergency shelter is ongoing
Read the article in the Juneau Empire by Michael S. Lockett 
Read the KTOO story – Amid search for a space for this year's cold weather shelter, one Juneau church offers to help Lyndsey Brollini
Read the Juneau Empire Article Living and Growing: Seeking justice for people experiencing homelessness By RLC Congregation Member Laura Rorem
Resurrection Lutheran Church (RLC) has proposed allocating space within its facility located at 740 W 10th Street to operate the Cold Weather Emergency Shelter (CWES) – AKA, the Warming Shelter – for the City and Borough of Juneau (CBJ).  RLC received a Conditional Use Permit Application on November 9th from the CBJ Planning Commission.  Currently, RLC is negotiating the warming shelter contract with CBJ, with modifications made by the CBJ Planning Commission.
RLC has been in Juneau since 1926.  It has a long and proud history of serving those in need in Juneau and Southeast Alaska, including multiple generations.  It is a member of Love INC, Southeast Alaska Food Bank, the Juneau Suicide Prevention Coalition, Family Promise and regularly participates in the Juneau Coalition on Housing and Homelessness and Collaborated Efforts meetings.  The Resurrection Quilters donate their handcrafted quilts to those in need locally in Juneau and worldwide.  While many churches closed during the COVID-19 pandemic, RLC actually stepped up its operations.  The church was one of several churches to open a Safe Space for Schooling (RLC SSS) program to support students attending Zoom classes and was recognized by Juneau School District and its superintendent.  NAMI Juneau and the Suicide Prevention Collation recognized our RLC SSS Program Supervisor, Clarice Bethers, for exceptional work helping children in the community.  In order to accommodate the RLC SSS program, the Downstairs Hall (where RLC proposes to operate the CWES) was renovated.  RLC also expanded its weekly food pantry to allow patrons to continue to choose their own foods and receive other donated items.
In addition to weekly worship services, RLC operates the largest food pantry in Juneau feeding 150 to 200 individuals and families each week, where it operates a secondhand clothing outlet with donations from St. Vincent de Paul, congregation members, and the community.  In addition to addiction and self-help groups, RLC hosts many of Juneau's performing arts organizations who rehearse and perform at RLC, including the Juneau String Ensembles.  RLC's Juneau Live!™ community access outreach program (focusing on isolated and marginalized people in Juneau) is entering its second season with ten bi-weekly television shows on its YouTube channel, JuneauLive, and a weekly radio show on KINY.   Its programs include Juneau Eats! (how to get and prepare free food), Into the Arts (sponsored by the JAHC), shows on real estate, yoga, pets, and three shows featuring local music – all originating from the Juneau Live! Studio at RLC.  Juneau Live! has also hosted the Scouts Pinewood Derby, Polaris House, Alaska Folk Festival, Theater Alaska, and Juneau Jazz and Classics.  RLC is currently sponsoring two scouting troops and the Shooting Stars Scholars home-tutoring program for students and families with immunocompromised individuals.
In 2019, SVdP was awarded a contract to operate the CWES for the CBJ.  Since its prior location, the Public Safety Building was no longer available (was scheduled to be demolished), SVdP proposed to operate the CWES in its Community Center on Teal Street.  During the first year of operation, the COVID-19 pandemic (and need for social distancing of patrons) forced the relocation of the CWES to the JACC, where it remained until earlier in 2021, when the JACC reopened.  SVdP recently determined that it wouldn't operate the CWES for the 2021-2022 winter season, and has abrogated its contract with the CBJ.
While RLC is has no long-term plans or interest to be in the shelter business, RLC realized that it has:
Extensive experience with the patrons likely to use the CWES due its existing outreach programs – RLC Food Pantry and clothing distribution, Collaborated Efforts participation and pastoral street ministry.
Appropriate and available Downstairs Hall facility which is 25% larger than the SVdP Community Center (can accommodate about 28 socially-distanced patrons / 45 otherwise) with same amenities (including commercial kitchen, separate restrooms, etc.) and is located downtown.
Expertise with Pastor Karen Perkins being the trainer and fill-in staff for the CWES and Brad Perkins being General Manager for SVdP and the CWES (and author of the CWES contract) for 2017-19. Additionally, Pastor Karen has 25 years of working with the homeless and those in need (including as a San Francisco Night Minister), and Brad has 20 years.
Believing there are limited viable alternatives to the CBJ to host the CWES for the upcoming winter and being aware of capacity issues at the new Glory Hall in the Valley, the RLC council felt it was its Christian obligation within its mission statement "…to promote spiritual growth in Christ and service to all people" to offer to operate the CWES.
RLC will operate the CWES, as per the contract minimums with the CBJ:
November 15 to April 15
Nights when the predicted temperature (as determined on the prior day at 3 pm) to be below 32°
From 11 pm to 6:30 am
Two staff on duty with training in shelter operations, record-keeping/AKHMIS, homelessness, de-escalation, RLC guest services, first-aid/CPR, hazmat and AK food worker card.
Mitigating the impact of the operation of CWES on RLC's neighbors and Harborview Elementary School is a high priority and focus of the church.  RLC plans the following:
RLC held a public meeting on Wednesday October 27th to hear hear concerns, suggestions for impact mitigation and to answer questions.
Visible and public effort (with assistance of JPD, if necessary) to move CWES patrons away from RLC and neighborhood/school area) upon CWES closing each morning (including offering bus tokens when necessary).
Make sure patrons are not loitering around RLC, either waiting for the CWES to open and when it is not operating. RLC will make use of the web, social media and electronic signs to notify patrons when the CWES is operating.
Working with other Juneau shelters (i.e., The Glory Hall, AWARE, Housing First) to make sure the CWES is only sheltering patrons for whom it is a last resort. AWARE has offered to help transport residents who show up at the CWES to their own shelters.
Regularly patrol and cleanup the area around RLC.
The neighborhood will be able contact the CWES via its website http://warmingshelter.org with LiveChat, direct email manager@warmingshelter.org, regular programming on Juneau Live! and phone number 907-586-2380 with concerns, comments or questions.
RLC hopes these measures, in addition to others suggested by the neighborhood, school and community will mitigate the impact of the CWES.
As the church was one of several churches to open a Safe Space for Schooling (RLC SSS) program to support students attending Harborview Elementary School, RLC developed a close working relationship with the school.  In addition to the steps listed above for the neighborhood, RLC plans to have regular communication with Harborview Elementary School to mitigate the impact of the CWES.
RLC expects to work with JPD and CCFR to limit use sirens to or from the CWES on their occasional visits.  Additionally, the CWES itself will be in a concrete walled section of the building, where the patrons will generally be sleeping.  Finally, the staff will work to move patrons quickly in and out of the CWES to minimize their time outside the shelter and will request JPD assistance when necessary.