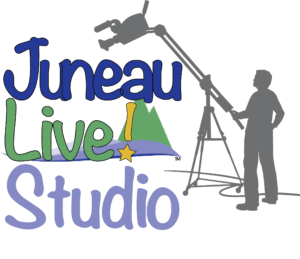 Land Acknowledgment
Juneau Live! Studio would like to acknowledge that we are on historical land of the A'akw Kwáan and T'aaḵu Kwáan, the Indigenous people of this land.  For more than 10,000 years, Alaska Native people have been and continue to be integral to the well-being of our community.  We are grateful to be part of this community, and to honor the culture, tradition and perseverance of the Tlingit people.  Please forgive our missteps as we attempt to right some of the wrongs of the past.  Gunalchéesh.
Mission Statement
Juneau Live! Studio is part of Resurrection Lutheran Church's (RLC) community service programs addressing immediate needs of refreshing and nourishing the body, mind and soul.  Along with RLC Food Pantry (nourishing the body), RLC Warming Shelter (refreshing the body), and RLC worship services (nourishing the soul), Juneau Live! Studio nourishes the mind by supporting individuals and families in our community who are suffering from seclusion and isolation, and its consequences.   We are connecting this marginalized population to Juneau though live-entertainment, educational and informational, community-access television programming on the Juneau Live! YouTube channel and KINY radio station.  The church believes these community service programs embody its mission to promote spiritual growth in Christ and service to all people.
Guest Service Statement
Guests of the Juneau Live! Studio include:
talent, volunteers, studio audiences, online viewers and listeners; and
donors, and sponsoring and granting organizations.
How we treat our Guests:
Have common courtesy. Seriously.
Be courteous and respectful to Guests of all stature and ages.
Go above and beyond to exceed Guest's expectations.
Provide immediate service recovery. Guest satisfaction is a top priority.
Make it worth our Guest's time to be here.
Seek out Guest contact. Be happy – make eye contact and smile!
Greet and welcome every Guest.  Spread the spirit of hospitality.  It's contagious!
Project a positive image and energy.  Exhibit appropriate body language.
Thank every Guest.
Lift up Guests in prayer or contemplation.
Develop and nurture our public image and community relationships.